Pamela Thomas, Sarcoma Patient
If you met Pamela Thomas during her six week stay in Baltimore, you might have thought she was just enjoying a get-away from her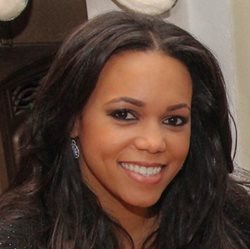 home in Vienna, Virginia. She was often out exploring the city's attractions, such as the Inner Harbor, Ripley's Believe it or Not and the National Aquarium.
"I even took a ride on the pirate ship one day, it's a fun place!" Pamela says.
While Pamela made the most of her break from work – she works in dental sales and also calls herself an unofficial Uber driver to her daughter and her boyfriend's three sons – she did not come to Baltimore for a vacation.
Pamela came to the city for cancer treatment after being diagnosed with a grade 3 tumor in her cheek/upper jaw. Her boyfriend, Farras Bakir, had heard of proton therapy and researched it as an option for her. When they found out that proton therapy is noninvasive and generally leads to fewer side effects, they requested a consultation at the Maryland Proton Treatment Center (MPTC).
Pamela and Farras met with William F. Regine, MD, FACR, FACRO, the Isadore and Fannie Schneider Foxman Chair and Professor of Radiation Oncology at the University of Maryland School of Medicine, and the Executive Director of MPTC.
"Once we met with Dr. Regine I knew in my heart this was the right place for me," she says.
Dr. Regine also felt that MPTC was the right fit for her.
"Ms. Thomas was an excellent fit for proton therapy. Her sarcoma was in her cheek/upper jaw, so it was critical to use pinpoint accuracy to protect the delicate tissue in her head and upper face. Pamela remained healthy and positive throughout treatment, and I believe she has an excellent future ahead of her."
Pamela received proton therapy twice a day for six weeks. The MPTC Concierge Services team helped her navigate her stay in Baltimore by securing long-term lodging at the Embassy Suites Inner Harbor. They also gave her advice on transportation, attractions and restaurants.
Her friends and family were very supportive. Farras came to see her most days, and when he could not make it, friends would take off work and drive up for the day.
"When my boyfriend was around we would go out to dinner every night, which was usually 3-4 times a week. My favorite restaurant was the Rusty Scupper," Pamela says, noting that she enjoyed dining by the water.
She also became close with the members of her treatment team. She had to wear a mask to help her keep her face still and in the same position for each dose of radiation. Radiation Therapist Rachaele "Racee" Taylor painted the mask to look like a Louis Vuitton bag, which was a wonderful surprise.
Her message for other's facing cancer is: "You are braver than you believe, stronger than you seem, and smarter than you think. Have faith in your doctors but at the same time ask questions and be your own advocate.  Lean on your friends and family. Allow them to be there for you to help you through this and support you. My grandmother once told me 'after the darkest hour comes the most beautiful sunshine' so keep in mind that this WILL pass. Keep a strong positive attitude. It's tough, it's no cake walk but you can do it. Having a positive attitude saved my life."
Pamela had her bell ringing ceremony on September 2, 2016.
"To my bell ringing I invited my boyfriend, his son and my daughter, my sister, my closest friends, I even face timed with my parents! It was a GREAT day!"