Proton Therapy for Pediatric Cancers
Why choose proton therapy?
Because children are smaller and still growing, they're more susceptible to the side effects of chemotherapy and traditional radiation therapy, which affect both diseased and healthy tissues. Proton therapy is different: The accuracy of the proton beam limits the chance that healthy tissues around the tumor will be affected. This has shown the potential to lower the risk of short-term side effects that pediatric patients often bear during their treatment as well as complications later in life, such as secondary cancers, growth and developmental delays.
Meet a Pediatric Patient
Get to know pediatric patient Teddy Wind by clicking on the video below:
Pediatric cancers we treat with proton therapy
We treat a wide range of pediatric cancers. Request a consultation below to learn if proton therapy might benefit your child. Our physicians will work with you, your family and your care team to create a personalized treatment plan for your child.
Proton therapy can be used to treat a wide variety of pediatric cancers, such as:
Atypical teratoid rhabdoid tumors (AT/RTs)
Craniopharyngioma
Ependymoma
Ewing's sarcoma
Germ cell tumors
Low- and high-grade gliomas, including juvenile pilocytic astrocytomas and optic pathway gliomas
Lymphomas, including Hodgkin's disease
Medulloblastomas and primitive neuroectodermal tumors (PNETs)
Neuroblastoma
Optic pathway glioma
Pituitary adenoma
Recurrent tumors, including recurrent benign tumors
Rhabdomyosarcoma
Unique care for our youngest patients
Our Magic Castle program is a joyful symbol of hope for young patients at MPTC. When treatment begins, children place three wishes inside of the castle. When treatment is completed, a special ceremony is held.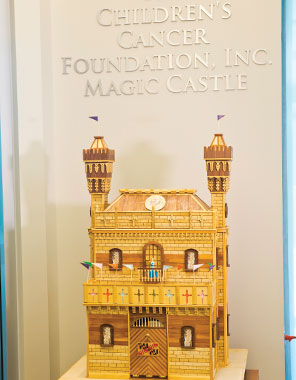 Why choose MPTC?
Our dedicated pediatric team from the University of Maryland Department of Radiation Oncology is fully integrated with the University of Maryland Children's Hospital (UMCH). UMCH is recognized statewide and regionally as a center of excellence for children with critical illnesses and complex, chronic conditions.