Proton Therapy for Lymphoma
Treat lymphoma while minimizing long-term side effects
Lymphoma is a highly treatable form of cancer. Many people with lymphoma are cured with chemotherapy and radiation and go on to live long lives. For this reason, it's smart to minimize the radiation dose that healthy tissues – such as the heart, lungs, breast, and esophagus – receive. By doing so, you may reduce your risk of developing health problems over time as a result of radiation therapy.
Because proton therapy stops at the site of the tumor, your heart, lungs, breast, and esophagus can avoid receiving unnecessary radiation. This can be especially helpful for children and people who have received chest radiation before .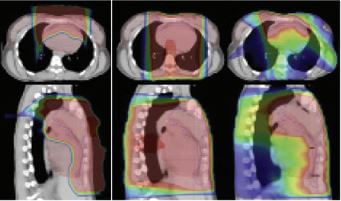 Comparison image – Proton Therapy is on the left, Photon Therapy is on the right
Patient Experience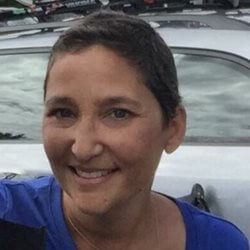 "The little things, like free valet parking and being greeted by name, made a big difference. The building is beautiful and you don't feel like you're in a hospital," says Maryland Proton Treatment Center Patient Marie Barton. Read her story here.
Lymphoma types we treat with proton therapy
Hodgkin lymphoma
Various types of non-Hodgkin lymphomas, including

B-cell lymphomas (diffuse large B-cell lymphoma, follicular lymphoma, chronic lymphocytic leukemia, mantle cell lymphoma, marginal zone B-cell lymphomas, Burkitt lymphoma, hairy cell leukemia, primary central nervous system lymphoma
T-cell lymphomas (precursor t-lymphoblastic lymphoma/leukemia, peripheral t-cell lymphomas)
Proton therapy for recurrent lymphoma
If your tumor has grown back (recurrence), traditional x-ray radiation is generally not possible because the area around your tumor has already withstood a previous course of radiation. Proton therapy, however, can be safe to use in many cases, including cases of recurrent lymphoma. Proton therapy, however, can be safe to use in many cases, as it can provide an optimal dose of radiation to your tumor that limits the dose that your heart, lungs, breast, and esophagus may receive.
Learn more about proton therapy
Request a consultation below to learn if proton therapy might benefit you. Our physicians will work with you and your care team to create your personalized treatment plan.