Carly Dent, Breast Cancer Patient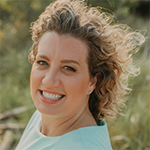 Carly Dent of Annapolis was standing in the lobby of a doctor's office in the fall of 2019 when a woman came over to her and told her about proton therapy. Carly was wearing a scarf because she'd lost her hair due to chemotherapy. The woman told her that if she was going to get radiation for breast cancer, she should get protons.
Carly had never heard of the therapy, but she researched it online and decided to ask for protons.
A few weeks later, she was in the hospital due to a high fever. She had planned to meet with Luqman K. Dad, MD, of Annapolis Radiology Associates and the Maryland Proton Treatment Center (MPTC), to discuss her radiation options. Since she was in the hospital, she thought she would need to reschedule her appointment. To her surprise, Dr. Dad came to her in her hospital room…twice!
She asked Dr. Dad about protons and he thought it would be an excellent choice for her.
"He gave my mom a hug and said he would do everything he could to help me. I can't say enough about Dr. Dad," Carly adds.
"Carly's case was a special one, and precisely the reason why this advanced technology offers so much promise to our patients who require radiation therapy to targets that lie very close to or abut critical normal tissue, such as the heart," says Dr. Dad. "When our standard organ sparing techniques, such as breathe-hold, respiratory gating, and intensity modulated radiation therapy (IMRT) are not able to adequately achieve tolerance doses, we favor utilizing proton beam therapy. Having this tool allows us to offer the latest and the best in cancer treatments to the patients we serve in our health system."
In late January 2020, she began driving herself to daily treatments at MPTC. She says, "The staff were top-notch. They made everyday fun and bright for me."
On March 16, 2020, Carly stood outside the center and rang a bell in front of her family and friends. It was important to her to celebrate the end of treatment with her loved ones, and she was glad she could do it while following the COVID-19 policies in place at the time.
She rang the bell 33 times for her 33 days of treatment. Her loved ones who couldn't be there in person sent her videos of themselves ringing bells to show their support.
For others considering proton therapy, Carly says, "If your doctor thinks you are a good candidate for protons, I wouldn't hesitate. I would do it all over again.