Virginia Spicer, Lymphoma Patient
93-year-old Virginia Spicer had just celebrated Easter with her family when she noticed a lump in her neck. A family member recommended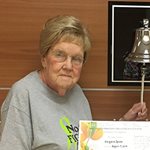 that she visit Aaron Rapoport, MD, at the University of Maryland Marlene and Stewart Greenebaum Comprehensive Cancer Center.
She was diagnosed with lymphoma and was recommend to receive chemotherapy followed by proton therapy . She became a Maryland Proton Treatment Center patient in the spring of 2017.
"Proton therapy was an excellent decision for Virginia because it spares healthy tissues, which can minimize side effects. This is especially important when targeting radiation to the neck since patients can develop side effects from radiation to the salivary glands and the speech and swallow organs. Further, due to her age and after having gone through chemotherapy, she was concerned about tolerance to radiation treatment. Virginia was able to complete her radiation treatments without any interruptions in therapy or appreciable toxicitiy," says her treating physician, Pranshu Mohindra, MD, MBBS, Assistant Professor of Radiation Oncology at the University of Maryland School of Medicine.
Indeed, Virginia says the treatment was painless and she did not feel any discomfort. She returned to her home in West Friendship, Maryland after each treatment and was able to continue with her usual activities, including baking and shopping.
She rang the bell on her last day and said, "I was very happy, but I miss everyone that took care of me. My team has such compassion and this place is like a 5-star hotel!"