Meet Our Affiliate Physicians
The Maryland Proton Treatment Center strives to make proton therapy accessible for all cancer patients in the region. To increase accessibility, MPTC partners with several health centers in the area. Below is a list of MPTC physicians affiliated with our partner health centers.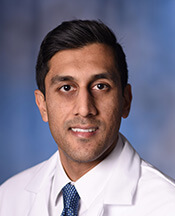 Physician, Chesapeake Oncology Hematology Associates
Assistant Professor of Radiation Oncology, University of Maryland School of Medicine
Dr. Patel specializes in utilizing advanced radiation therapy techniques, including proton therapy, to treat a variety of cancers.
Special Interests: Lung, Prostate, Breast, Head & Neck , Gastrointestinal (anal, liver, esophagus, pancreas, rectum, stomach) and Brain
Medical Degree: Rutgers Robert Wood Johnson Medical School
Residency: Rutgers Robert Wood Johnson Medical School
Certification: Radiation Oncology