Marie Barton, Lymphoma Patient
For many people, cancer treatment leaves little or no time for work and family. But Marie Barton, a mother of three sons and a travel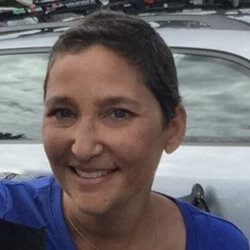 consultant, continued to work and spend time with her family during her treatment for Hodgkin lymphoma at the Maryland Proton Treatment Center (MPTC).
After receiving chemotherapy at the University of Maryland Marlene and Stewart Greenebaum Comprehensive Cancer Center (UMGCCC), Marie's oncologist, Arnob Banerjee, MD, PhD, recommended evaluation for radiation treatment. She was seen in the Department of Radiation Oncology at UMGCCC by Pranshu Mohindra, MD, MBBS, DABR, who recommended that she receive proton therapy to reduce the amount of extra radiation exposure to the heart, lungs, breasts and other organs in the chest.
When she learned that proton therapy is non-invasive and often results in fewer side effects, she decided this treatment was the right choice for her and her family.
In the summer of 2016, Marie began driving daily to MPTC from her home in Crofton, MD.
"The little things, like free valet parking and being greeted by name, made a big difference. The building is beautiful and you don't feel like you're in a hospital," Marie says of the experience.
After her appointment each day, Marie would drive back to Crofton and work from home. Her family, especially her sons (ages 16, 20 and 23) helped with the cooking and cleaning.
"I am the rock in my family, but the boys really stepped up."
After work and on the weekends, Marie enjoyed watching her youngest son's lacrosse games for DeMatha High School. While she cheered on the team, the team also rooted for her. Several families from the team and other members of the Crofton community brought meals to her home during treatment.
"Cancer is hard to go through, but when you have support, it makes it a lot easier."
A month after Marie completed treatment, her family and friends participated in a Lymphoma Research Ride. The goal of this bike ride was to raise critical funds for lymphoma research and benefit patients living with blood cancers. Her brother raised more than $2,600, and the team they joined – Team Assuncao – raised more than $57,000.
Her advice for other patients is: "Never stop believing and staying positive. You have to keep fighting – you are your own best advocate."
From the physician, Pranshu Mohindra, MD, MBBS, DABR:
"Proton therapy is an excellent choice for Hodgkin lymphoma patients such as Marie because it can precisely target the cancer and it stops at the site of the tumor, which allows the heart, lungs, breast, spinal cord and esophagus to be better spared from receiving unnecessary radiation. This is important because it reduces the risk of developing both short-term and long-term health problems over time that can develop as a result of radiation treatments."