Jennifer Carrizal, Head and Neck Cancer Patient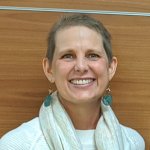 On October 11, 2019, Jennifer Carrizal was not feeling well, as she had just finished her last day of chemotherapy the day before. The only thing she thought she could eat was pizza from a restaurant near her rural Georgia home. While waiting inside the restaurant for her order, a man approached and asked how her treatment was going.
"Is it that obvious?" Jennifer replied.
"No. I'm just very familiar with oncology because I've spent 25 years working for a company that builds radiotherapy equipment and other solutions for treating cancer patients," he explained.
He introduced himself as Bruce Birdsell, a Vice President for Varian Medical Systems. As they chatted, she shared that she had received proton therapy at the Maryland Proton Treatment Center (MPTC) – on a system that Bruce's company had designed and manufactured!
Jennifer proceeded to share her story with Bruce. In April 2019, she was living in Northern Virginia with her husband and three young daughters and working as an attorney. She felt a swollen lymph node in her neck and pressure in her ears. When the symptoms did not resolve for more than ten days, an ultrasound and biopsy were recommended. On April 23, 2019, Jennifer was diagnosed with squamous cell carcinoma. The primary tumor was located deep in her left sinus and the cancer had spread to lymph nodes on both sides of her neck.
Jennifer's initial reaction to the diagnosis was, "I have three babies. I need more time."
Jennifer was referred to Gopal K. Bajaj, MD, MBA, radiation oncologist and medical director of radiation oncology at the Inova Schar Cancer Institute. Dr. Bajaj discussed traditional radiation options and then stated, "If you were my sister, I would recommend proton therapy." Due to the location of Jennifer's cancer, Dr. Bajaj worked with his radiation oncology partner, Kevin Choe, MD — who specializes in treating tumors near the brain — to create a plan that could effectively treat Jennifer's cancer while preserving and protecting her brain, vision and hearing.
Jennifer met with Dr. Choe at MPTC before starting proton therapy. He informed her that proton therapy would offer the greatest precision for targeting her cancer while helping to minimize side effects and unnecessary damage to normal tissue. She began treatment on June 3, 2019.
In conjunction with starting treatment, Jennifer met MPTC Concierge Services Coordinator, Lydia Umlandt. Lydia explained options for lodging near the treatment center and referred Jennifer to the American Cancer Society's Hotel Keys of Hope Program. Ultimately, the American Cancer Society provided Jennifer with accommodations at a local hotel.
Throughout the treatment process, Jennifer felt that the members of MPTC's treatment team connected with her in a personal and compassionate manner. "While I did not know how to fight the cancer, I had confidence in the staff at MPTC. I knew they had the expertise to fight the battle and that they would stand by me and guide me through the process."
At the end of July, Jennifer finished treatment at MPTC and moved with her family to Georgia.
Bruce invited Jennifer back to MPTC for a behind-the-scenes tour to learn about the equipment, systems and people who contributed to her treatment. Jennifer visited in December and met with the engineers, physicists and dosimetrists who diligently work to ensure that all MPTC patients receive the best and most precise treatment possible.
Jennifer emphasized to the people she met, "MPTC not only saved my life, it saved the quality of my life. Thank you!"
Jennifer looks forward to celebrating the holidays with her family and returning to work in January.