Kaela Buchanan, Pediatric Patient
To say Kaela Buchanan is busy would be an understatement.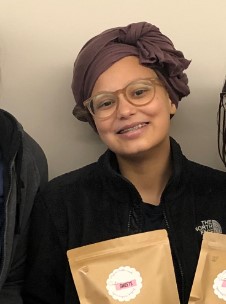 The high school junior has been running a cookie business, Sister's Sweets, for the past few months alongside her sister Mia.
"Me and my sister started making cookies and it was something I did to pass the time. My dad began taking them to work and he said 'these are really good, you should sell them,' so we started selling them," Kaela explains.
Kaela has done all of this while fighting cancer.
She was diagnosed in August 2019 with a germinoma brain tumor on her pituitary gland. After undergoing surgery and chemo, she needed radiation. Kaela and her family researched different radiation options and decided the Maryland Proton Treatment Center (MPTC) was the best place for her treatment.
Kaela is treated by Dr. Young Kwok, who specializes in using proton therapy to treat pediatric patients like her, who can benefit greatly from the treatment's precision, which minimizes damage to healthy tissue.
Kaela's mother, Joyce, says that during this challenging time, the entire MPTC team have done all they can to provide outstanding care.
"The nurses and therapists that work with her each day are just amazing, and have not had one single poor experience, not even a mediocre one. I am so grateful that we decided to get treatment here, it was the best decision ever."
After ringing the bell, Kaela is looking forward to escaping the Baltimore winter to vacation in Mexico with her family. And of course, continuing to build her cookie empire with Mia.
Kaela's advice to other teens fighting cancer?
"Don't stress out about it. It's scary, but you can get through it if you just calm down, relax, and just focus on what you need to get done."