Juan Sanchez, Pediatric Patient
Baltimore is not considered a winter destination – especially if you live in Miami – but the Sanchez family of Miami, Florida spent seven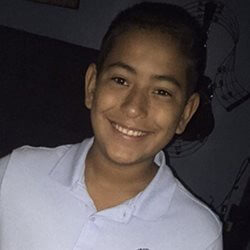 weeks in Baltimore over December and January to receive treatment for their 13-year-old son, Juan.
Juan was diagnosed with brain cancer after experiencing two weeks of nausea. Doctors recommended proton therapy because the proton beam is highly accurate and limits the chance that healthy tissues around the tumor will be affected. This means fewer complications later in life, which is extremely important for pediatric patients.
The Sanchez's learned about Robert Malyapa, MD, PhD, a professor of radiation oncology at the University of Maryland School of Medicine. Dr. Malyapa is an internationally recognized proton therapy physician with more than a decade of experience using proton therapy to treat cancers of the brain. The Sanchez family decided to come to the Maryland Proton Treatment Center (MPTC) to be treated by Dr. Malyapa.
"Pencil beam scanning proton therapy was an excellent choice for Juan because we were able to paint the radiation dose in the region of interest while sparing critical tissues," Dr. Malyapa says.
"It's been a great experience.  We've felt supported since the first day we came here," Juan Sanchez Sr. says. "Dr. Malyapa has been good for us. He has a son close to the same age as Juan, and he makes us feel that everything is going to be okay."
Juan's parents and older sister came with him to Baltimore. The MPTC concierge team found lodging for the whole family at the Ronald McDonald House. Juan tolerated the treatment well, and he was able to join his family in playing air hockey at the house and going to movies on weekends. On their last weekend in Maryland, they enjoyed a University of Maryland women's basketball game with free tickets from the Children's Cancer Foundation.
The family has felt strong support from their community. At Juan Sanchez Sr.'s office, his fellow employees donated more than 300 hours of leave so that he could be with his son during treatment. At Juan's school, the students lined up in t-shirts that said "PFJ," which stands for "Prayers for Juan."
Juan says he looks forward to going back home and enjoying his family's signature dishes, including roast pork.
"But we will miss everyone," Mrs. Sanchez says. "Leaving will be sweet and sour."
Juan Sanchez Sr.'s advice for other parents: "Do a lot of research because proton therapy is one of the best options. The system here [at Maryland Proton Treatment Center] is amazing."