Proton Therapy for Brain Tumors
Treat brain tumors while protecting healthy brain tissue
Because tumors in the brain are surrounded by vitally important and delicate structures, it is crucial to limit the dose of radiation that surrounding healthy cells receive. Pencil-beam scanning proton therapy delivers maximum-dose radiation to brain tumors while minimizing damage to surrounding healthy tissues.
While people of all ages can benefit from the unmatched precision of proton therapy, this treatment can be especially important for pediatric patients. Learn more about proton therapy for pediatric patients by clicking here.
Benefits of proton therapy
Not only does proton therapy help protect surrounding, healthy brain tissue, it can also reduce treatment side effects and help maintain your quality of life and cognitive abilities during treatment. Studies have shown proton therapy to be safe and effective in treating many types of brain tumors, including recurrent tumors.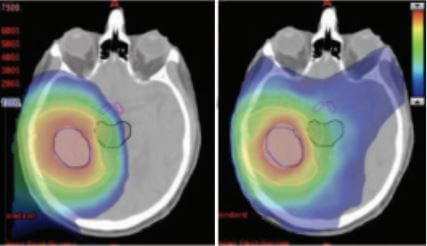 Comparison image – Proton Therapy is on the left, Photon Therapy is on the right
Patient Experience
"The nurses and therapists that work with her each day are just amazing. I am so grateful that we decided to get treatment here," says Joyce Buchanan, mother of pediatric brain tumor patient Kaela Buchanan. Read her story here.
Brain tumors we treat with proton therapy:
Arteriovenous malformations (AVMs)
Craniopharyngiomas
Low-grade, high-grade and recurrent gliomas
Meningiomas
Pineal tumors
Pituitary tumors
Tumors of the base of skull
Vascular malformations
Proton therapy for recurrent brain tumors
If you have a recurrent brain tumor that has previously been treated with radiation therapy, traditional x-ray radiation isn't generally recommended because the area around your tumor can only tolerate a limited amount of radiation over a lifetime. However, proton therapy can be safe to use in many cases, as it can provide an optimal dose of radiation to your brain tumor that limits the dose that the vitally important and delicate structures surrounding the brain receives. This makes radiation a viable option for recurrent brain tumors.
Learn more about proton therapy
Request a consultation below to learn if proton therapy might benefit you. Our physicians will work with you and your care team to create your personalized treatment plan.
Many patients who have brain tumors will need to have a mask created to help them keep their head, neck and shoulders still and in the same position during each treatment. To learn about a special tradition MPTC has for masks, please click here.