Proton Therapy for Prostate Cancer
Treat prostate cancer with fewer side effects
Physicians at the Maryland Proton Treatment Center use the most advanced form of proton therapy, known as pencil-beam scanning, to target prostate cancer tumors with unmatched precision, while minimizing damage to healthy tissue.
Proton therapy is a non-invasive and low-risk option that often improves the quality of life for men with prostate cancer. Research has shown that proton therapy may reduce the risks for side effects in urinary, bowel and erectile function, both in the short- and long-term.
Like traditional radiation therapy, proton therapy is typically administered one time per weekday for several weeks. Most patients complete their appointments within one hour each day. At the Maryland Proton Treatment Center, we use a novel hydrogel spacer instead of a "balloon" to create space around the prostate, protecting healthy tissues and allowing us to more precisely target the prostate cancer. The spacer is less invasive for patients because it involves having one procedure before treatment begins, as opposed to having a balloon inserted each day.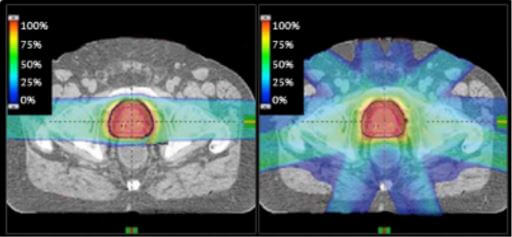 Comparison image – Proton Therapy is on the left, Photon Therapy is on the right
Prostate cancers we treat with proton therapy
Localized prostate cancer (low, intermediate, and high risk)
Other prostate cancers
Proton therapy for recurrent prostate cancer
For those with a recurrence of prostate cancer, additional radiation therapy with photons can increase the risk of side effects and isn't generally recommendation. In these cases, proton therapy can provide an optimal dose of radiation to your tumor while protecting the healthy tissue surrounding the prostate. This puts radiation back on the table as a treatment option for recurrent prostate cancer.
Learn more about proton therapy
Request a consultation below to learn if proton therapy might benefit you. Our physicians will work with you and your care team to create your personalized treatment plan.
To learn more about proton therapy for prostate cancer, please watch the video below.