Eileen Fauteux , Spine Patient
One Year After Treatment (Summer 2017)
Eileen Fauteux graduated from Virginia Tech in May 2017. Her college experience included participating in a co-ed community service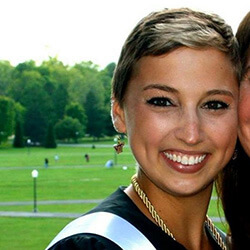 fraternity, playing intramural sports such as volleyball, and fighting cancer.
Eileen received treatment at the Maryland Proton Treatment Center for Ewing's Sarcoma, a pediatric cancer that typically forms in the bone or soft tissue in adolescents and young adults. Her treatment, which included chemotherapy, took place during the end of her junior year and beginning of her senior year. When she completed treatment, she "felt relieved and ready to go back to school and back to normal life."
She continued to participate in her usual activities during proton therapy, and she even added some new activities – being an opening speaker at the Virginia Tech Relay for Life, which is the largest collegiate Relay for Life in the country!
Today, she is in physician assistant school at the Philadelphia College of Osteopathic Medicine. She expects to graduate in 2019.
"I have always been interested in a career in medicine," Eileen says. "I feel so lucky to be here, continuing my dream. After my experience, I know that every day is a blessing."
"She is now cancer-free, and I expect a long and healthy future for Eileen," Young Kwok, MD, associate professor of radiation oncology at the University of Maryland School of Medicine, says about his patient.
Eileen's advice for other young adults fighting cancer is: "Stay positive – negativity is not an option!"
Original S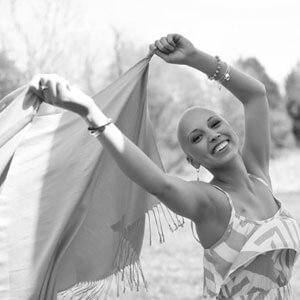 tory (Summer 2016)
"I was just an average girl leading a normal life," recalls Eileen Fauteux as she remembers the events that led to her cancer diagnosis. Eileen was a 20-year-old Junior at Virginia Tech when she suddenly began to experience extreme back pain in November 2015. Two ER visits later the doctors assumed that she had torn a muscle in her back after being diagnosed with bronchitis. She was sent home with heavy pain medications to help her recover; however, the pain continued to worsen. Eileen then began feeling numbness and tingling in her legs and toes and walking became extremely painful and difficult.
On November 19th, an MRI revealed a mass on her spine that was compressing nerves, causing the numbness and difficulty walking. She was rushed to a local medical center to undergo emergency spinal surgery. Doctors found a tumor along four of her vertebrae that was compressing her spinal cord. Three and a half hours later, the tumor was successfully removed and sent for testing. (The procedure performed is called a laminectomy with a complete resection.)
Two weeks after Eileen's surgery, she and her family received news that the tumor was malignant and she was diagnosed with Ewing's Sarcoma. Ewing's Sarcoma is a rare pediatric cancer that typically forms in the bone or soft tissue in adolescents and young adults. Initially, Eileen was solely focused on rehabbing her legs after the surgery, but now she turned her attention to treating the cancer.
Body scans revealed that the cancer was localized to her spine and had not spread; however, due to the high risk of the cancer metastasizing an aggressive nine-month chemotherapy and radiation regimen was prescribed. When she asked her oncologist what to expect, he answered, "Lots and lots of chemo." While Eileen had hoped to return to school within a few months after the holidays since she was technically 'cancer free,' she now had to mentally prepare for the long journey the lay ahead.
A good candidate with great timing
Because of Eileen's rare condition, several oncologists were consulted as she began therapy. One of them suggested that Eileen would be an ideal candidate for proton beam radiation. Given the location of the cancer and the many sensitive nerves and organs surrounding the spine, the precision of proton beam therapy would minimize damage to healthy tissue. Eileen was referred to Young Kwok, M.D., a radiation oncologist at the University of Maryland and associate professor of radiation oncology at the University of Maryland School of Medicine, where the Maryland Proton Treatment Center (MPTC) is located.
The Maryland Proton Treatment Center would open just in time for Eileen to be part of their first round of patients. Eileen and her mother traveled to Baltimore and stayed at the Hope Lodge, funded by the American Cancer Society. She was treated with the proton therapy every weekday for six weeks straight and continued to receive chemo at the University of Maryland Marlene and Stewart Greenebaum Comprehensive Cancer Center.
What was proton therapy like?
"I lay down in the machine on a mat that is custom fit to my frame, so it's actually pretty comfortable. To drown out the sound of the machine the doctors play Pandora which helps the time pass quickly. The therapy itself is completely pain free. I actually don't feel a thing and experienced very few side effects. Towards the end, though, a small rectangle, which resembled sunburn, developed on my back around the scar of my incision. But, that healed pretty quickly."
In the afternoons, Eileen and her mother would sightsee in Baltimore based on recommendations from the concierge program at the Maryland Proton Treatment Center, including the Baltimore Zoo and local restaurants at the inner harbor.
According to Dr. Kwok, Eileen's attitude and activity-level were important to her recovery, "Ms. Fauteux approached this with great spirit and stayed very busy physically and mentally. Consequently, she tolerated her therapy extremely well." Eileen was also grateful for the coordinated care she received: "The teams of doctors, nurses and therapists at every treatment location have been absolutely incredible."
Eileen has since returned home to finish her chemo treatment. She aims graduate on time with her classmates at Virginia Tech in May 2017. After graduating, Eileen will pursue a career as a Physician Assistant. As a young woman who has already been through so much, we have no doubt she'll accomplish whatever she sets her mind to.