Robert Bennett, Anal Cancer Patient
Robert Bennett, 58, of Alexandria, Virginia is not new to the cancer rodeo. After being diagnosed with prostate cancer in 2011, Mr. Bennett was successfully treated at Walter Reed National Military Medical Center with surgery followed by an eight-week course of photon radiation. He has been in remission ever since.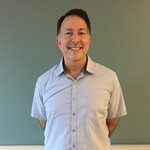 In the fall of 2017, Mr. Bennett approached his primary care provider about an anal fissure that was not healing and was becoming increasingly painful. After a course of topical creams failed to provide relief, he had surgery to correct the fissure. As a precaution, a biopsy was ordered, and it revealed that the tissue was cancerous. The diagnosis was invasive squamous cell carcinoma of the anus, and because there was lymphatic invasion in the surrounding tissue, the treatment plan would involve radiation therapy to the entire pelvic region. Because Mr. Bennett received radiation in the same region only six years prior, his physician, Keith Unger, MD, of MedStar Georgetown University Hospital, recommended that he receive proton therapy.
"Proton therapy was imperative in order to minimize radiation to the healthy tissues in the pelvic region that received a high dose of radiation previously," said Dr. Unger. "The technology at MPTC allowed us to design an excellent treatment plan for Mr. Bennett, which was exceedingly complex and required treating from several different angles." The treatment plan was designed to deliver twice daily treatments. The treatments were delivered to lower the dose of radiation per treatment instead of one larger dose a day to allow the healthy tissues to heal as much as possible.
Mr. Bennett followed his physician's recommendation, and in July 2018 he packed his bags and drove up to Baltimore for four weeks of proton therapy treatments.  Being treated twice a day made it necessary to stay in Baltimore during the week. He stayed at the American Cancer Society's Hope Lodge and walked to his treatments in the mornings and afternoons. Mr. Bennett, who works for the Department of Veterans Affairs as an account manager within the Office of Information Technology was able to work remotely during his stay in Baltimore.
"Staying at the Hope Lodge was perfect. Between my treatments I set up shop in their library and kept up with work while I was going back and forth from MPTC. I was so grateful for the opportunity."
Mr. Bennett said that receiving treatment at the Maryland Proton Treatment Center was an experience completely unlike his first encounter with cancer. He described the strong feeling of community at the Maryland Proton Treatment Center with the staff and the camaraderie he felt with fellow patients as the grounding he needed to keep fighting.
"Being treated twice a day, you really get to know the staff, and they were all amazing."
Mr. Bennett successfully completed treatment on August 16, 2018.
Watch Mr. Bennett's story below, or visit Youtube.com.