Ivy Valenzuela, Eye Patient
When Ivy Valenzuela was diagnosed with eye cancer, the 39-year-old turned to Facebook. She wrote on a Facebook group that she had been advised to try traditional radiation therapy. A woman responded and suggested she try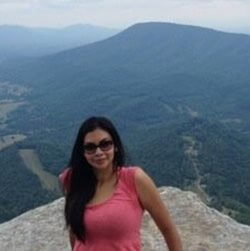 proton therapy instead.  The two of them spoke via Skype to discuss proton therapy. After doing some research, Ivy decided it was the right choice for her, and so she began looking for treatment in her area.
She found the Maryland Proton Treatment Center, which is about an hour and fifteen minutes from her home in Falls Church, Virginia.
She and her husband Steve traveled to the center Monday through Friday for seven weeks.
"I love it here.  Everyone has been wonderful, from the parking attendants to the front desk staff," Ivy says of the center.
"They are good people," Steve agrees, "they are open, friendly, professional and transparent."
While Ivy and Steve are in the area, they also explore Baltimore; especially the Inner Harbor.
During her treatment, Ivy has been able to continue with her favorite activities, such as hiking, reading and watching movies.
Ivy's message to other cancer patients is: "Cancer is just a phase in your life; you can't be defined by it. Have faith and a positive attitude, eat well, relax your mind, work out and move forward."
Ivy commemorated her last day of treatment with Steve and a long-time friend.