John Comegys, Prostate Cancer Patient
John Comegys, a Delaware farmer, was attending a charity auction when he got the news that he had prostate cancer.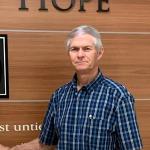 His doctor talked with him about surgery and traditional radiation, but when his nephew emailed him about proton therapy, he felt that it was just what he was looking for. Proton therapy can be an excellent option for prostate cancer patients like Mr. Comegys because it minimizes damage to healthy tissue, reducing the risk for side effects.
He scheduled a consultation with the Maryland Proton Treatment Center (MPTC). Afterwards, the MPTC concierge team called him to ask about his lodging and transportation needs, as he lives an hour and a half away. He said he would drive himself to and from treatment, but he appreciated the concern.
On June 22, 2020, Mr. Comegys began daily treatments. He became fast friends with other patients and enjoyed the comradery. He also appreciated the level of care from the team.
"When the team wanted to move my start date by a week, Dr. Molitoris called me personally. You don't get that kind of treatment often."
As his treatment came to an end, he wanted to make a contribution to "book-end" his journey, since it began at a charity auction. He remembered the concierge team telling him about the virtual pantry, which helps patients who need lodging and transportation assistance. He says he made a $1,000 donation because "it was the right thing to do."
The treatment didn't slow him down, and just one day after finishing he took a plane to Indiana for the American Soybean Association 100th anniversary celebration. Today he continues to work on his family farm.
For those interested in supporting the virtual pantry, please contact Melissa Breslin, Senior Director of Medical Development, at [email protected] or at 410.328.8450.