Charles "Gerry" Schwing, Lung Patient
At 87-years-old, Charles "Gerry" Schwing of Westminster, Maryland was an active business owner when he was diagnosed with an advanced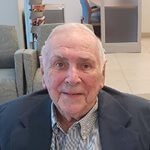 lung tumor. He met with Whitney Burrows, MD, of the thoracic oncology program at the University of Maryland Greenebaum Comprehensive Cancer Center.
Dr. Burrows discussed surgery with Gerry, but he wanted to avoid an operation. Given his advanced age and desire to minimize treatment side effects, Dr. Burrows introduced him to Maryland Proton Treatment Center Medical Director Charles B. Simone, II, MD, associate professor of radiation oncology at the University of Maryland School of Medicine.
"I appreciated both of them being honest about my options," Gerry says.
Gerry became a proton center patient in the spring of 2018. He drove himself to his daily appointments and weekly chemotherapy sessions.
"The center is fabulous. I've never been in a place where I haven't found even a single person who is grouchy. No one here is unpleasant," Gerry says.
He handled treatment well and continued to work, including overseeing a metal fabrication shop that he operates with his son and grandsons, and a wine distribution business.
In May 2018, he finished treatment and is now enjoying golfing with friends every Thursday.
"Before you get an operation, check out proton therapy," Gerry advises to others who are diagnosed with lung cancer.