Bruce Hill, Prostate Patient
Bruce Hill is an attorney in Baltimore City, and when he was researching treatment options for prostate cancer, he wanted a non-surgical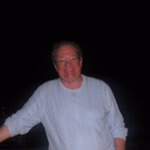 option that would allow him to keep his commitment to his clients.
Online research led him to books written by prostate cancer survivors Ron Nelson and Robert Marckini, who both received proton therapy. One book had a list of proton centers in the back, including the Maryland Proton Treatment Center (MPTC). Bruce went to mdproton.com and filled out a consultation request.
Within a few hours, an MPTC nurse called him to learn more about his situation. The nurse recommended that Bruce come for a consultation, and just days later Bruce met with Adeel Kaiser, MD, Assistant Professor of Radiation Oncology at the University of Maryland School of Medicine.
"Proton therapy was an excellent choice for Mr. Hill because it targets prostate cancer tumors in a manner that minimizes damage to healthy surrounding tissues and reduces the risks for side effects," Dr. Kaiser says.
In May 2017, Bruce became a patient at MPTC.  He would come in each day at 7:20 AM for his treatment, and by 8:00 AM he was on his way to work. He tolerated the treatment well, and remarked, "Other than getting up earlier, my schedule and daily routines have stayed the same."
"I have nothing but praise," Bruce said of his MPTC experience. "I have never been to a medical center where everyone is so caring, kind and compassionate. It is like Cheers – everybody knows your name! The valet driver, front desk staff and nurses all say 'Good Morning, Mr. Hill' every morning."
Mr. Hill celebrated his last day of treatment with his wife. His advice for others facing cancer is: "Never give up – keep fighting!"