Spotlight On: Oncology Social Work at Maryland Proton Treatment Center
April 14, 2017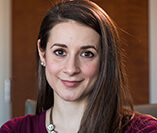 Fighting cancer often requires more than medical treatment – patients need help with everything from transportation to discussing the diagnosis with their family and colleagues. The Maryland Proton Treatment Center (MPTC) Clinical Social Worker, Jessica Giordana, LCSW-C, is available to help patients with these needs.
As you begin and continue treatment:
•    Explore your family's strengths and needs.
•    Discuss concerns you have about treatment.
•    Link you to community support resources.
•    Discuss financial limitations and resources.
•    Provide supportive counseling/therapy (individual or family).
•    Offer special support for pediatric patients, including family and sibling support.
•    Assist with housing/transportation difficulties.
•    Help with creating or adjusting Advanced Directives.
•    Work with your medical team to help you receive the best care possible!
As you prepare for end of treatment:
•    Help you plan for your transition back to home or work.
•    Help you determine eligibility for financial assistance.
•    Make referrals to individual therapists or support groups that fit your needs.
•    Celebrate your completion of proton radiation therapy and help you look toward the future!
If you are interested in receiving these services, please call 410-369-5256.