Maryland Proton Treatment Center partners with Radiation Oncology Associates to offer advanced cancer treatment for Northern Va. Patients
April 5, 2017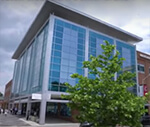 The Maryland Proton Treatment Center (MPTC) is expanding its reach into Northern Virginia, and patients there will be able to take advantage of the center's highly advanced and precise radiation treatment approach. MPTC has entered into an agreement with Radiation Oncology Associates (ROA), a respected specialty practice in Northern Virginia. The agreement enables ROA radiation oncologists to treat their patients at MPTC in collaboration with MPTC doctors.
ROA is the leader in comprehensive, cutting-edge radiation therapy in Northern Virginia. Founded in 1977, ROA has grown over the years to a group of 10 board-certified and eligible physicians who provide radiation oncology services in Fairfax, Loudoun and Prince William counties, and the City of Alexandria.
Under the terms of the agreement, ROA physicians will be granted adjunct faculty appointments at the University of Maryland School of Medicine (UM SOM) and privileges to treat patients at MPTC.
"We have always envisioned the Maryland Proton Treatment Center as a regional resource, with healthcare providers from around the area joining together to collaborate, not only for the benefit of individual patients, but also to advance the field of radiation oncology," says William F. Regine, MD, FACR, FACRO, MPTC's executive director. Dr. Regine is also the Isadore & Fannie Schneider Foxman Endowed Chair and professor of radiation oncology UM SOM.
"We are excited to collaborate with the Maryland Proton Treatment Center in bringing state-of-the-art proton radiation therapy to our patients in Northern Virginia," says Samir Kanani, MD, an ROA physician. "Image-guided intensity-modulated proton therapy (IMPT) allows us to treat tumors with unparalleled precision. For carefully selected patients with tumors in challenging locations, proton therapy may help to reduce the risk of potential complications. The implications are far-reaching."
Charles B. Simone, II, MD, Associate Professor of Radiation Oncology at UM SOM, who serves as Medical Director of MPTC and Co-Director of the Maryland Proton Alliance (MPA), says, "We are excited about this new partnership with Radiation Oncology Associates (ROA) of Northern Virginia. This type of collaboration helps further the mission of the MPA, which is to advance proton cancer treatment through clinical and translational research and to improve patient care."
The MPA was created to bring together the multi-platform global research and education programs of UM SOM with the clinical services of MPTC.
"We are very pleased to collaborate with Radiation Oncology Associates," says E. Albert Reece, MD, PhD, MBA, vice president for medical affairs at the University of Maryland, who is the John Z. and Akiko K. Bowers Distinguished Professor and Dean of the School of Medicine. "Such dynamic partnerships help us to make this technology available to more patients and to move the science of proton therapy forward."
The first patients were treated at MPTC in February 2016. The 110,000-square-foot center, which houses a 90-ton cyclotron, is the first in the Eastern United States to offer ProBeam® image-guided intensity-modulated proton therapy (IMPT) in every treatment room.
While traditional radiation therapy is still an excellent option for most cancer patients, many patients could benefit from proton therapy. The radiation dose in proton therapy stops at the tumor site, reducing radiation dose exposure to surrounding healthy tissue, potentially allowing for patients to have fewer side effects and preventing damage to critical organs.
About the Maryland Proton Treatment Center
The Maryland Proton Treatment Center (MPTC) offers proton therapy – a highly advanced and precise form of radiation therapy that can increase radiation dose to tumor while decreasing dose to healthy, surrounding tissue – to the Baltimore/Washington region and beyond. Proton therapy is a highly effective treatment that can reduce treatment side effects for a wide range of solid tumors such as those found in the base of skull, brain, breast, esophagus, eyes, head and neck, liver, lung, pancreas, prostate, pelvis, spine, as well as lymphomas. It is also a very important treatment option for children with cancer and for patients whose tumors have recurred in an area that was previously treated with radiation therapy.
At MPTC, each treatment room is equipped with the most advanced form of "pencil beam" proton therapy, which essentially paints the radiation onto the tumor while stopping precisely at the site of the tumor. Proton therapy is performed on an outpatient basis and is a well-tolerated, non-invasive treatment that can reduce side effects. It can be used in conjunction with other modalities of cancer treatments such as chemotherapy and surgery. MPTC offers a robust clinical trial program to all its patients to further evidence-based medicine.
MPTC has been patient-centered from the beginning – with a focus on accessibility and affordability. The center was designed to be a regional resource, providing the same training, privileges and clinical guidelines to physician groups across the region that work side-by-side with MPTC faculty and staff, thus improving efficiency and affordability. MPTC offers free concierge services to ensure a seamless patient experience and a successful reconnection back to their referring physician. One of the goals of MPTC is to remain cost-neutral to insurance providers, meaning patients pay the same for proton treatment as they would for other more conventionally available intensity-modulated treatments at the University of Maryland Medical Center.