Doctor Radio on SiriusXM Interviews Medical Director Charles B. Simone, II, MD
April 14, 2017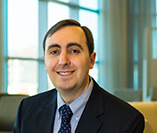 Doctor Radio, a 24/7 national radio channel, recently interviewed Maryland Proton Treatment Center Medical Director Charles B. Simone, II, MD, associate professor of radiation oncology at the University of Maryland School of Medicine.
Dr. Simone appeared on the April 11 pulmonology show to discuss his recent study on a promising biomarker that may facilitate earlier detection and targeted treatment of recurrent disease.
To listen to the show, please visit criticalmention.com.