Baltimore Magazine Names MPTC Nurse Manager Cortney Carnaggio One of the Top Nurses in the Region
March 20, 2017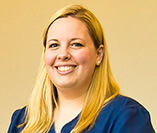 The May 2017 issue of Baltimore magazine celebrates the top 50 nurses in the region for their extraordinary contributions to healthcare. The Maryland Proton Treatment Center (MPTC) is proud to announce that our own nurse manager, Cortney Carnaggio, MSN, RN, was selected as one of the top nurses.
At MPTC, Ms. Carnaggio is responsible for ensuring quality patient care through the direct supervision of all nursing personnel. She coordinates and maintains staffing adequacy and patient throughput. She is passionate about educating staff and growing their knowledge so that they can provide optimal care to patients and families. She has a Masters in Healthcare Administration/Nursing Leadership from Stevenson University and a Bachelors of Science in Nursing from Salisbury University. She is a member of the Oncology Nursing Society and Sigma Theta Tau International.
Prior to joining MPTC, she spent six years as a charge nurse on an inpatient oncology unit at the Johns Hopkins Hospital.
Ms. Carnaggio and her fellow winners will be recognized at a dinner and awards reception at the Belvedere Hotel in April. To learn more, please visit http://www.baltimoremagazine.net/top-nurses-2017