First TV Commercial for Maryland Proton Treatment Center
September 23, 2016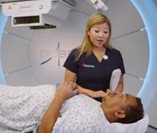 On September 21, 2016 the first television commercial for the Maryland Proton Treatment Center (MPTC) began airing in Baltimore.
The 30-second commercial stars a few MPTC staff members, including Radiation Therapists Raelyn Debner and Anh Kha and Dr. Shahed N. Badiyan, MD, Assistant Professor of Radiation Oncology at the University of Maryland School of Medicine.
The commercial will be running through November.
Watch it now by visiting youtube.com or clicking the box below.