Painted Masks Help Patients Relax
September 16, 2016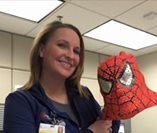 It all started with one little boy who was scared of his mask.
He needed to wear a mesh mask to help him lay still and in the same position for his radiation treatments. This is a typical part of the experience for any patient that needs radiation in the head, neck or shoulder area.
Radiation Therapist Megan Sank saw him struggling and started thinking about a solution. She knew he loved Spiderman, so she decided to paint his mask to make it look like Spiderman.
"He loved it! He was never afraid of his mask again," Megan says.
It was a hit, and Megan began painting masks for all children that needed masks during treatment at the University of Maryland Department of Radiation Oncology. She's made Batman, Ironman, Hello Kitty, Frozen and others.
"Everyone has loved it. It's funny because we started doing it for kids, and then adults saw them and wanted them too. It makes it more fun for them, they can't wait to take them home," Megan says.
Megan paints the masks in her free time, and says each one takes one to four hours.
That's an extra workload, but luckily for Megan, she is not the only artistic radiation therapist.
Radiation Therapist Rachaele "Racee" Taylor also enjoys painting. She had plans to be an art teacher before her experience with cancer changed her mindset.
Racee was working in Las Vegas at Bellagio and Mandalay Bay when she was diagnosed with gynecological cancer at 23-years-old. The Baltimore native left Vegas and returned home to recover from treatment.
As she recovered, she began to set her sights on a career in medicine. Racee started studying radiation therapy in 2000 and began working for the University of Maryland Medical Center in August 2003.
She saw Megan painting masks and asked if she could try it too. Soon she was turning out her own creations, such as Optimus Prime and even Louis Vuitton.
When Megan and Racee joined the Maryland Proton Treatment Center (MPTC) team, they brought the tradition with them. Together, they've painted a mask for every patient that has needed one at MPTC.
"It's a reminder of the fun side of their journey, now it's a piece of art," Racee says.
Take a look at Megan and Racee's masks below: