Maryland's Health Matters features Maryland Proton Treatment Center
September 26, 2016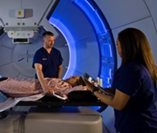 A spotlight article on the Maryland Proton Treatment Center (MPTC) ran in the Fall 2016 issue of Maryland's Health Matters, the University of Maryland Medical System's quarterly magazine.
The article describes the benefits of proton therapy, and it explains that MPTC has the most advanced form of proton therapy – known as pencil beam scanning or intensity modulated proton therapy (IMPT) – available in all five treatment rooms.
To read the article, please click here to open the PDF, or click here to view the online version.