New Study on Lung Cancer from Maryland Proton Treatment Center Medical Director
August 15, 2017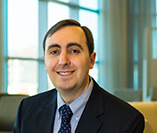 Proton-beam radiotherapy is safe and appears to be effective in treating some cases of small cell lung cancer (SCLC), an aggressive cancer that accounts for about 10 to 15 percent of all lung cancers, according to a new study published online in the journal Cancer.
The study of 30 patients is the first prospective study for SCLC to evaluate clinical outcomes and adverse effects of proton therapy, a precise form of radiation therapy that deposits all of its energy within the tumor and causes less collateral damage to normal tissues around the tumor. Patients in the study had localized cancer that had not spread to other parts of the body.
"Radiation therapy is essential to the management of limited-stage small cell lung cancer, but when it is combined with chemotherapy, it can result in substantial toxicities, increasing the risk to critical organs such as the lungs, heart and esophagus," says Charles B. Simone, II, MD, associate professor of radiation oncology at the University of Maryland School of Medicine and Medical Director of the Maryland Proton Treatment Center, who is the senior author of the study.
Studies have demonstrated that proton therapy can reduce the radiation dose to these healthy organs in patients with non-small cell lung cancer (NSCLC), the most common form of lung cancer, but there previously were no comparable data for small cell lung cancer, Dr. Simone notes. "We wanted to assess the safety and preliminary efficacy of combining proton-beam therapy with chemotherapy to treat this very challenging type of lung cancer, which is particularly important since patients with small cell lung cancer often present with larger tumors and are sicker at diagnosis than their non-small cell counterparts" he says.
The researchers found that the combination therapy produced a lower incidence of adverse side effects than would be expected with standard photon therapy while maintaining similar clinical outcomes. They also reported "statistically significant" reductions in radiation doses to the spinal cord, lungs and heart compared to the doses that would have been delivered with standard radiation therapy. They performed this analysis by comparing proton therapy with clinical backup plans for each patient using intensity-modulated radiotherapy (IMRT) with photon therapy.
"We are very encouraged by these findings but hope that this study serves as a platform on which to build larger clinical investigations," Dr. Simone says. "We need multi-center studies to further evaluate the effectiveness of proton therapy for small cell lung cancer patients."
The majority of the patients in the study were women; the median age was 68 years old. All had a significant history of smoking. After the treatment, 27 patients were evaluated: 11 had a complete response, 15 had a partial response and one had stable disease. The patients were followed for a median 14 months. The median disease-free survival was 14.3 months, and the median overall survival was 28.2 months. Side effects included inflammation of the lungs or esophagus, fatigue and anorexia, but only a few serious adverse events were reported.
The team of researchers concluded: "Proton-beam therapy as part of a combined modality therapy for LS-SCLC is feasible and safe, with preliminary evidence showing encouraging efficacy in comparison with photon radiation."
The research was conducted at the University of Pennsylvania, where Dr. Simone was on the faculty before coming to University of Maryland School of Medicine in 2016. The lead author is Jean-Claude M. Rwigema, MD.
"Although this is a small study, it is an important first step in evaluating the safety and effectiveness of proton therapy to treat patients with this aggressive lung cancer," says E. Albert Reece, MD, PhD, MBA, vice president for medical affairs at the University of Maryland, who is the John Z. and Akiko K. Bowers Distinguished Professor and dean of the School of Medicine. "We believe that proton therapy holds great promise for treating this and many other cancers and are committed to advancing the science through clinical research at our Maryland Proton Treatment Center."