Montgomery Municipal Cable Interviews Dr. William F. Regine
September 28, 2017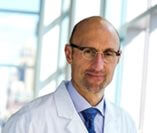 The Maryland Proton Treatment Center Executive Director William F. Regine, MD, FACR, FACRO, the Isadore and Fannie Schneider Foxman Chair and Professor of Radiation Oncology at the University of Maryland School of Medicine, discussed proton therapy on Montgomery Municipal Cable.
Dr. Regine appeared on Housecall, a program hosted by David Doman, MD, a Montgomery County gastroenterologist, GW clinical professor and author of "Heartbeat." The show covers Maryland's healthcare from a multifaceted viewpoint.
To watch the clip, please visit youtube.com or click the box below.