Maryland Proton Treatment Center Treats Its 1000th Patient
June 26, 2018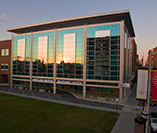 Just two years after it opened its doors, the Maryland Proton Treatment Center (MPTC) has reached a milestone by treating its 1,000th patient.
MPTC is successfully treating an array of extremely difficult cancers with proton therapy, an advanced radiation technique that targets tumors with pinpoint accuracywhile limiting radiation exposure to healthy tissues. It has successfully treated lung, liver, mesothelioma, head and neck cancers, and recurrent tumors throughout the body.
In two years, MPTC has become the fastest proton center in the country to reach volume milestones of 25, 50, 75 and 90 patients treated per day, said William F. Regine,MD,FACR, FACRO, executive director of MPTC and the Isadore & Fannie Schneider Foxman Chair of the Department of Radiation Oncology at the University of Maryland School of Medicine (UMSOM).At the same time, the Baltimore center has trained more than 160 physicians and medical professionals from around the world in the use of proton therapy. Furthermore, nearly 85 percent of patients are approved for coverage by insurance.
"MPTC has quickly become one of the leading proton centers in the world by expanding the knowledge and use of this advanced cancer care technology,"said Moataz Karmalawy, PhD, general manager of Varian's Particle Therapy division, the Palo Alto, Calif.-based medical device manufacturer that makes the ProBeam system used at MPTC. "Congratulations to the staff at the center for achieving the 1000th patient milestone."
"It is a remarkable technology that is addressing extraordinarily challenging cancers and is giving people hope," Dr. Regine said.
Unlike conventional radiation that penetrates through the body, proton beams stop at the tumor. This allows for a higher dose of radiation to the tumor while sparing normal, healthy tissues and organs, reducing both the immediate and long-term side-effects of treatment.
MPTC is the only center to offer proton therapy in Maryland and has pioneered advanced forms of the technology using Varian's ProBeam system. This system combines intensity-modulated proton therapy with cone-beam computed tomography and pencil-beam scanning to deliver radiation within the precise contours of the tumor.
"Pencil-beam scanning proton systems allow our physicians to 'paint' the radiation dose onto the tumor, layer by layer," said Charles B. Simone, MD, medical director of MPTC and associate professor of radiation oncology at UMSOM, as well as co-director of the Maryland Proton Alliance."For patients, the take-away is simple: maximal radiation dose with minimal damage."Dr. Simone estimates that 30 percent of patients who receive conventional radiation would be better served by proton therapy. Proton therapy works best on solid tumors and is sometimes the only option when a tumor is difficult or impossible to remove surgically, such as some brain and spine tumors, he said.
"It can be especially beneficial for pediatric patients and for adults with a long life-expectancy post-cancer to avoid long-term side effects commonly seen with conventional radiation therapy. It is also particularly helpful for patients with recurrent tumors after prior cancer treatments," said Dr. Simone.
Of the 1000 people treated at the center, each one has a story to tell.
Sandy Burkart, an accountant and mother of two daughters, turned to MPTC last year after learning that conventional radiation for breast cancer can potentially cause long-term damage to the heart and lungs.
"You need to research things," Ms. Burkart said. "I was never told about proton therapy, I had to search for it myself, and that is how I found MPTC." She describes it as "the best experience I've had medically."
Marlin Sweitzer, a retiree from Pennsylvania, came to MPTC for prostate cancer treatment in June 2017. Traditional radiation therapy was not recommended because he received radiation for lymphoma in his thigh a few years before. Proton therapy was critical because it limited the amount of radiation to his previously exposed healthy tissues.
One year later, Marlin says "I am staying active, fixing up a new room in my home and working on my vacation home on Jones Mountain."
The center not only has world-class technology, but it also has a team that takes the time to learn about each patient.
"Our proton beams may focus directly on the tumor," Dr. Regine said, "but our physicians and staff focus on the whole person."
About Varian
Varian focuses energy on saving lives and is the world's leading manufacturer of medical devices and software for treating and managing cancer. Headquartered in Palo Alto, California, Varian employs approximately 6,500 people around the world. For more information, visit http://www.varian.com and follow @VarianMedSys on Twitter.
About the Maryland Proton Treatment Center
The Maryland Proton Treatment Center offers proton therapy – a highly advanced and precise form of radiation therapy that can increase radiation dose to tumor while decreasing dose to healthy, surrounding tissues – to the Baltimore/Washington region and beyond. Proton therapy is a highly effective treatment that can reduce treatment side effects for a wide range of solid tumors such as those found in the base of skull, brain, breast, esophagus, eyes, head and neck, liver, lung, pancreas, prostate, pelvis, spine, as well as lymphomas. It is also a very important treatment option for children with cancer and for patients whose tumor came back in an area that was previously treated with radiation therapy.