ABC Baltimore Meets with Brain Cancer Patient
May 9, 2018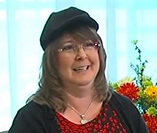 Maryland Proton Treatment Center Patient Mary Alston spoke with ABC Baltimore regarding the unfortunate circumstances that led to her cancer diagnosis.
On Christmas Eve, Alston was planning to take her own life when police intervened and took her to a hospital. A CT scan revealed a brain tumor. Within days, she received surgery to remove the tumor.
"A few weeks after the surgery, she found out her tumor had been upgraded to stage two, meaning radiation. She knew right away that she wanted proton therapy, a very precise form of radiation," the ABC article states.
To watch the clip of Mary's story, please click the box below or visit youtube.com.