WBAL Features Carly Dent's Unique Bell Ringing Ceremony
June 5th, 2020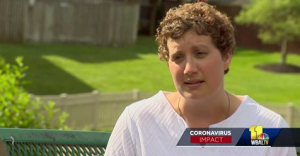 Carly Dent, who was recently treated at the Maryland Proton Treatment Center for breast cancer, spoke with WBAL about her treatment journey and unique bell ringing ceremony that took place during the COVID-19 pandemic.
When Carly Dent began proton therapy, she looked forward to ringing the bell on her last treatment day. Ringing the bell alongside her family was important to Carly, but COVID-19 guidelines meant that having them with her wouldn't be possible if she rang the bell inside of MPTC.
Instead, Carly's care team brought the bell outside for Carly to ring so her family could also attend the ceremony while maintaining social distancing. She rang it 33 times – one ring for each treatment day.
Watch Carly's interview at https://www.wbaltv.com/.