Proton Therapy and Immunotherapy – Forging a New Partnership
The role of the immune system in eradicating cancer is critically important. Patients with suppressed immune systems frequently face more aggressive cancers and don't respond as well to our traditional therapies.
Today, there's an increased use of systemic therapies that modulate the immune system, including traditional immunotherapy agents like PDL-1 inhibitors or CTLA-4 inhibitors. These have become a standard treatment for a number of malignancies including head and neck cancer, lung cancer, and gastrointestinal cancers.
Additional immunotherapy agents are emerging at the University of Maryland, including CAR T-cell therapy, which is being expanded for use from leukemias and lymphomas to solid tumor malignancies through clinical trials.
One important consideration in the use of radiation in the treatment of cancer is that very low doses of radiation and a low dose spread of radiation can have a significant impact on immune cells. Low doses of radiation can cause cell death in different types of immune cells. Anything we can do to decrease the low dose spread of radiation may allow for the immune system to be more competent and better participate in eradication of the malignancy.
Dr. Jason Molitoris
Associate Professor of Radiation Oncology, University of Maryland School of Medicine
The Value of Proton Therapy
Proton therapy is one option to decrease the low dose spread of radiation compared to photon or x-ray radiation. Proton radiation therapy utilizes beams of protons to target tumors instead of more intense, high beam x-ray radiation that is administered more globally. With protons, nearby critical organs are spared from exposure to radiation. Proton therapy also is used as a secondary option for recurrent cancers already treated with traditional photon radiation therapy.
Proton therapy is well suited for localized tumors. Once the protons reach the tumor they are targeting, they stop, preventing healthy tissues located nearby from receiving radiation. Proton therapy targets solid tumors with pinpoint accuracy and delivers a maximum radiation dose directly and only to the tumor. In addition to sparing nearby organs, proton therapy may reduce side effects, enabling patients to maintain a more normal quality of life and continue to perform regular activities of daily living as compared to patients undergoing traditional radiation.
Partnering Protons with Immunotherapy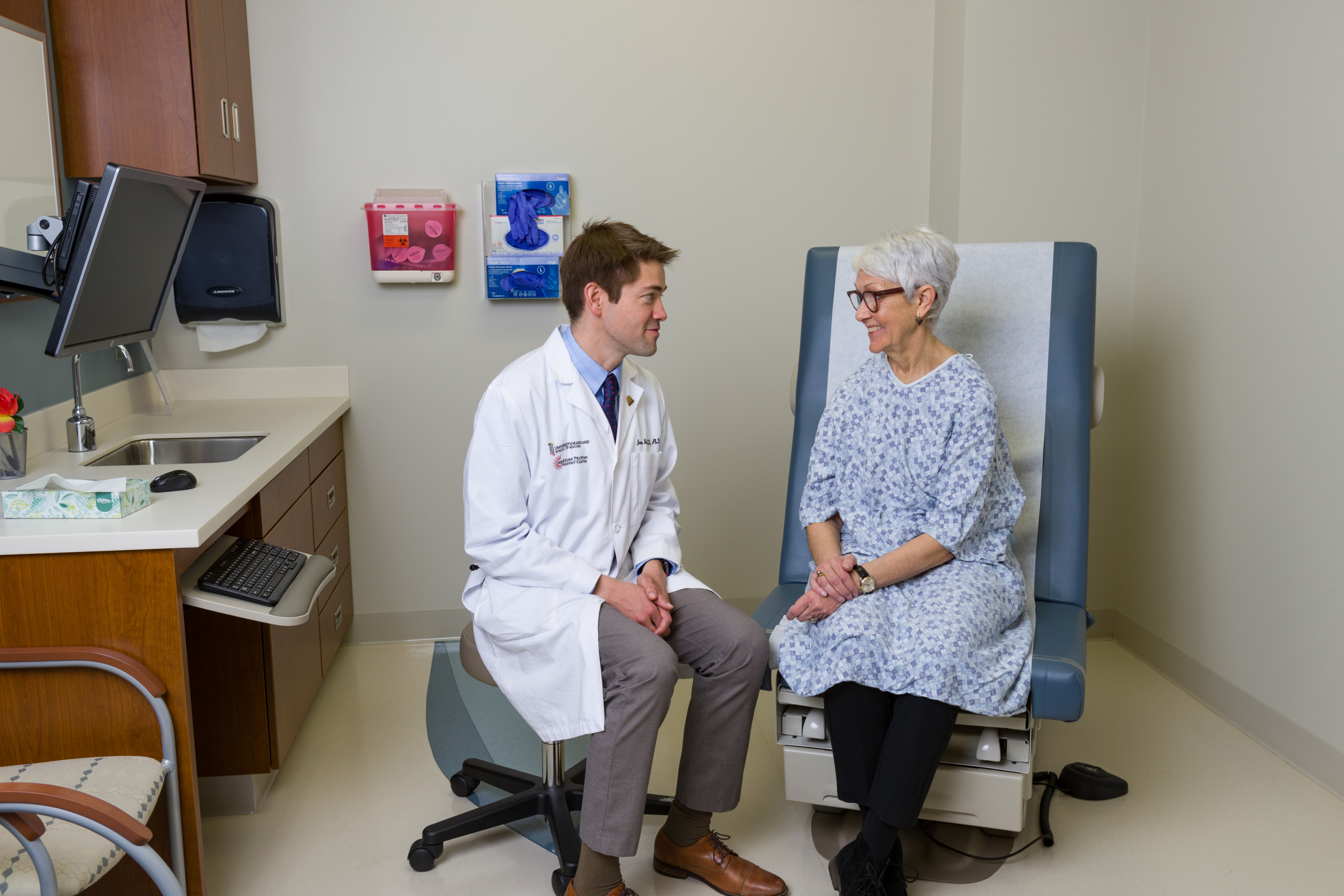 Immunotherapy provides patients another treatment option to combat cancer cells in the body, particularly those historically treatment-resistant. Immunotherapy removes the camouflage that cancer cells have against the immune system and allows for the immune system to recognize the cancer cell as foreign and attack and kill it.
With some cancers, treatment plans are now pairing proton therapy with immunotherapy to combat historically-resistant diseases. While there is limited evidence to prove the efficacy of the concurrent treatments, studies are underway to evaluate the use of proton therapy to enhance the effectiveness of immunotherapy and to determine the synergism between immunotherapy and radiation when treating the lymphatic system.
There are two ways in which proton therapy can help the immunotherapy work and reduce immunosuppression. In the more traditional sense, protons can eradicate the tumor and then allow for the immunotherapy to systemically control the spread of cancer cells to other parts of the body with less impact on the immune system. In addition, teaming proton therapy with immunotherapy can enhance the immune response on tumor cells, potentially by having less impact on the immune system with low dose spread of radiation.
The goal is to create an environment where the immune system attacks the cancer cells. Our group is interested in investigating how to incorporate proton therapy as a way to Improve the ability for immunotherapy to activate the immune system like that.
Ongoing Study
To date, only a few research studies have embarked on evaluating the emerging partnership of proton beam therapy and immunotherapy. Published studies have used protons in combination with immunotherapy to treat advanced non-small cell lung cancer and also advanced biliary tract cancer with demonstrated potential clinical benefit. Further study is needed to indicate pronounced results.
At the Maryland Proton Treatment Center, we are interested in exploring the relationship between proton radiation and its ability to increase response rates when added to immunotherapy for additional cancer types. We have submitted several grant proposals, including one that aims to fund a clinical trial evaluating the use of radiation combined with immunotherapy for gastrointestinal malignancies. The study would evaluate proton and photon radiation and compare them when used in concert with immunotherapy.
We are in the early stages of creating additional research studies to evaluate the impact of proton therapy teamed with immunotherapy to treat a variety of specific cancers.