Proton Collaborative Group Appoints MPTC Medical Director as Executive Council Chair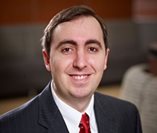 December 29, 2016
The Proton Collaborative Group (PCG) recently announced that the Maryland Proton Treatment Center (MPTC) Medical Director, Charles B. Simone, II, MD, has been appointed as the Chairman of the PCG Executive Council.
The PCG Executive Council provides oversight for all PCG committees, protocol development and approvals, clinical policies and procedures, and organizational strategy implementation.
Dr. Simone has served as the PCG Lung Committee chair for the past several years. He will now also serve as the leader of the PCG Executive Council for a two year term.
PCG was founded in 2009 by a group of radiation oncologists whose primary mission was to improve the survival outcomes of cancer patients and the quality of life for affected individuals.  These oncologists strongly believed that collaborating to develop new research protocols and sharing those results across multiple treatment centers would best serve their mission.
To learn more, please visit pcgresearch.org.