Betsy Weingarten, Caregiver
Betsy Weingarten watched what she identified as ageism during her father's healthcare journey, and it made her realize it's an "ism" we don't talk about enough because the victims often aren't able to advocate for themselves. "I found that healthcare, in some ways, could be disheartening for seniors," Betsy stated. With close to a decade of experience as a caregiver for her father, she believed that older adults are often ostracized, not treated with respect, or communicated to directly and therefore often receive subpar medical care. And even her father who suffered with dementia, felt he wasn't being treated with the respect he deserved. Fast forward to 2018 when her mother, Shirley Weingarten, was diagnosed with rectal cancer at the age of 92. Betsy felt strongly that she needed to be there to support her mother. She put her career on hold to be fully present for her mom's care because she thought that to get good health care, especially for older adults, you had to have an advocate.
After receiving her diagnosis, Shirley's cancer treatment journey began at the University of Maryland. Dr. Sally Cheston, Medical Director of Central Maryland Radiation Oncology (CMRO), fully engaged with her mom and saw her as a person. Betsy said, "she made my mom feel really comfortable, it was just a lovely interaction and one that I had not been accustomed to seeing with my parents and physicians." Their experience was unlike any other Betsy witnessed with her father. During such a scary time for them both, they now had some comfort in knowing the doctor cared. Dr. Cheston recommended a course of treatment that included six weeks of radiation with low dose chemo pills, which would be the same course of therapy that a younger person would have.
Given her previous healthcare experiences with her father, Betsy felt she owed it to her mother to seek out a second opinion. At the second hospital, the processes for patient care were much different. Like many hospitals, they utilized an interdisciplinary approach, and when it came to priority, Betsy suspected that her 92-year-old mother wouldn't fare that well. Instead of seeing her mom as a person, she felt they only viewed her on paper – unlike Dr. Cheston. With no physical exam, they factored her age and health conditions as a determining factor on how to approach care. Not only were the treatment recommendations from the second opinion completely different from what they were told by Dr. Cheston, they were also told Shirley wouldn't survive the initial treatment recommendation. This made an already scary situation even more stressful.
From there, Betsy brought her concerns to Dr. Cheston who took them very seriously and then reached out to Dr. William Regine, Executive Director of the Maryland Proton Treatment Center. Both physicians were generous with their time and reassured her that the six weeks of radiation was the best course of action for Shirley. With the other provider, she wasn't able to reach the physician directly like she was with Drs. Cheston and Regine, which was important to her at such a critical time. Even though she was told by the other physician that pursuing this treatment course could be harmful to her mom, she had more trust in the physicians from the University of Maryland and felt that with them, her mom was in good hands. "I'm not a medical professional. I didn't know what course of action was better, but I did know that Drs. Cheston and Regine got to know my mom, as a human, and didn't just look at her on paper."
It was one of the scariest decisions Betsy and her mom had to make, but they decided to pursue the six weeks of radiation at Maryland and thankfully, Shirley made a full recovery after treatment. Not only that, her quality of life improved substantially as there were issues she had previously that they associated with aging but were actually symptoms of her cancer.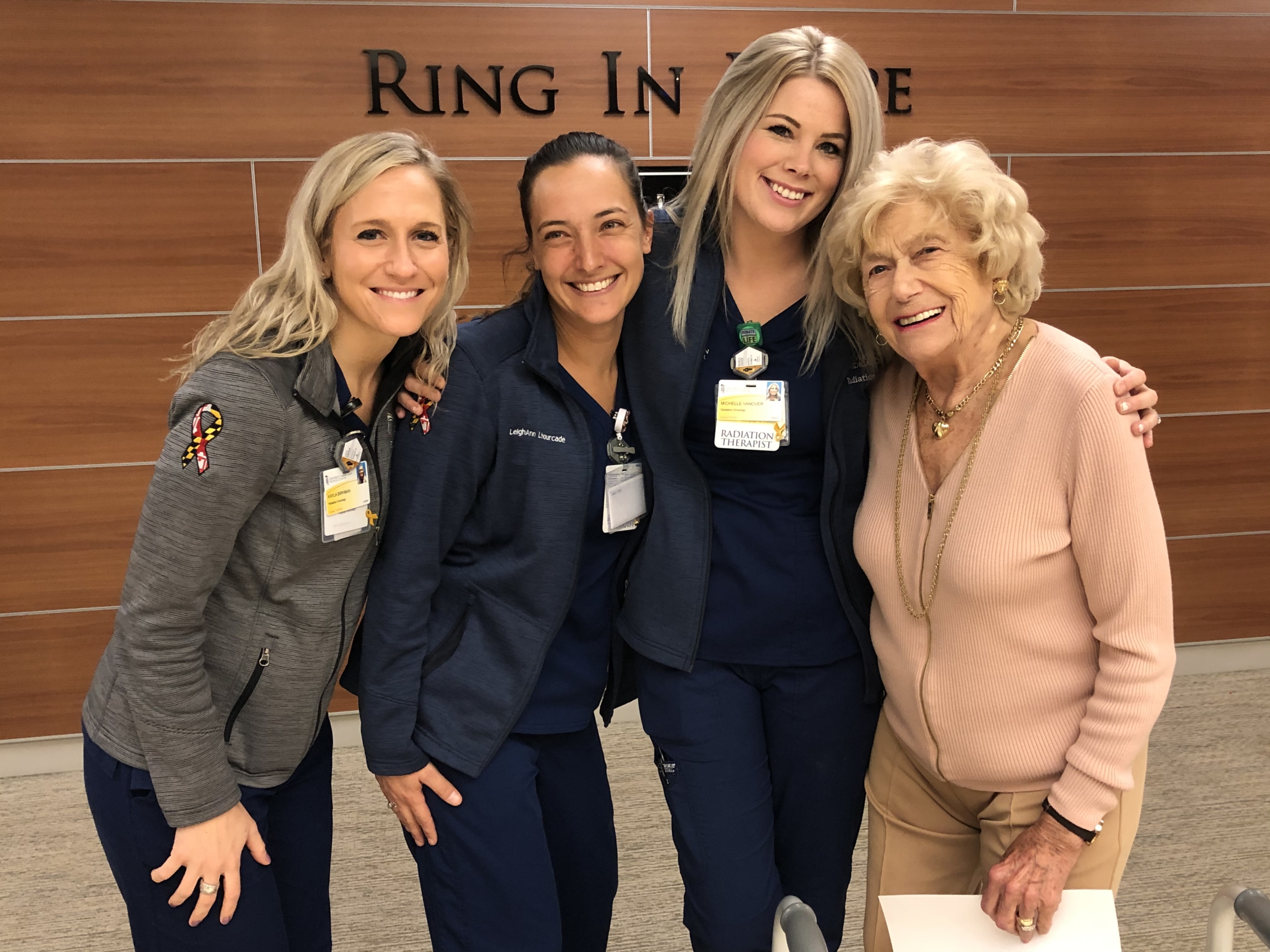 Due to Shirley's age and an unrelated heart issue, she wasn't a candidate for surgery that would have completely eliminated the tumor. A year later, after noticing growth in the tumor, Dr. Cheston referred her to Dr. Regine at the Maryland Proton Treatment Center (MPTC).
At MPTC, the patient centered culture was "taken to a whole new level". "It's everything, it's every single touch point. I've never seen anything in healthcare like the Proton Center," remarked Betsy.
From the moment they pulled up to the Center, even their interaction with the valet people alone was comforting and "a great distraction from the stress of getting treatment for a second time." They bonded with her mom and this continued over the course of her treatment as they connected through their love for the Baltimore Ravens.
"It's warm, it's bright, it's inviting." Betsy felt like even the interior design of MTPC made them feel comfortable. Once entering the building, they were greeted warmly by the concierge staff. Lydia Umlandt, concierge coordinator, understood Betsy's journey as a caregiver as she was also taking care of her own mother at the time. "She couldn't be more lovely. She knew everyone's name and knew everyone's story," said Betsy. In her role at MPTC, she would help with the logistics of Shirley's treatment, but she went beyond that – becoming part of their support system, making sure they had what they needed even if it was a hug. And this was the case at every touch point, whether it was the person cleaning or the person scheduling appointments. "There's a culture of goodness, kindness, and respect."
Betsy, who lived in Montgomery County, would travel to bring her mother from Ellicott City to the proton center in Baltimore. While none of this was easy, their experience at MPTC helped make things better.
"The clinical staff at MPTC are some of the best and brightest in radiation oncology but they are also good, caring people," said Betsy. "It's the culture at MPTC, and it's clear that members of the staff aren't just hired for their technical expertise but also because they are a cultural match." This starts at the top with the leadership. Betsy felt like the way Dr. Regine, in particular, made himself available is unprecedented in healthcare. The culture at MPTC is a reflection of his humility. "He's the most exceptional healthcare provider I've ever seen, only to be outdone by what an exceptional human being he is."
You'll hear stories about the kindness of MPTC patients and the way they treat each other. "There's a camaraderie because it's a journey that nobody wants to be on. But I feel like it's really a reflection of the proton center. It's incredibly special. I feel like the respect with which patients are treated there is reflected in the way they interact with other patients and their families."
As for the therapists that cared for Shirley, there were three that Betsy will never forget: Michelle VanOver, LeighAnn Lahourcade, Kaila Biddison. Whether it was playing music or singing or even saying a prayer, they gave Shirley whatever she needed. "They could have just done their job and moved on to the next patient, but they didn't. They showed so much love to my mom who was facing a frightening diagnosis." Shirley rang the bell in 2019, and they were right there with her. "It meant so much to me to see my mom celebrated in that way."
Between her two parents, there were a lot of hospitals Betsy spent time in. And her experiences at most validated her belief that older adults and vulnerable people had to have an advocate to speak up for them in order to get good healthcare. But after her experience at MPTC, she believed that if her mom would have gone alone and without a caretaker, "she would have gotten the same fabulous treatment."
For Betsy, this experience was "healing." She shared that her "experience at MPTC was an honor to witness." "I just wish there was a way that the proton center could become a footprint for how healthcare is structured. If it can be done at MPTC, I feel like it could be done in other parts of medicine."
Her mother passed away in 2021 at the age of 96, and when Betsy looks back at the pictures from Shirley's bell ringing and sees the smile on her own face and her mom being cheered on by Michelle, LeighAnn and Kaila while ringing the bell, it makes her happy.
In Memory of Shirley Weingarten

1925 – 2021