Maryland Proton Treatment Center Eyes Future, Strengthens Capital Structure with $277.4 Million Bond Deal
September 5, 2018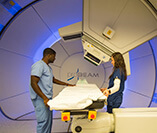 The Maryland Proton Treatment Center (MPTC) announced today that it has taken a major step in strengthening its balance sheet and capital structure to better position it to treat a growing number of cancer patients with its state-of-the-art therapy.
Through the sale of tax-free municipal bonds, MPTC has raised $277.4 million in fresh capital, slashed debt and set itself up to provide services to treat some of the most difficult forms of cancer for years to come.
"This is a major step forward for MPTC and the patients we treat," said Leigh T. Howe, MPTC's president and chief executive. "This is a vote of confidence in our model, our management, our physicians and the entire clinical team, and the treatments we are delivering to patients. A lot of people in the financial community like our story and have embraced it."
"We couldn't be more optimistic about our future and the future of our patients," added Dr. William Regine, executive director of MPTC and the Isadore & Fannie Schneider Foxman Chair of the Department of Radiation Oncology at the University of Maryland School of Medicine. "With this deal in place, we have solidified our role as one of the nation's leading cancer treatment centers and innovators for generations to come."
Since opening two-and-a-half years ago, MPTC has treated more than 1,200 patients, including patients from more than a dozen countries, and its daily patient volumes have continued to increase to reach over 100 patients a day.
Under the transaction, MPTC's parent company, Maryland Proton Treatment Holdings LLC, has agreed to lease the assets of its treatment center to the Public Finance Authority, a public agency dedicated to promoting social and economic interests of local government and helping to finance projects that improve quality of life across the nation.
For patients and affiliates of MPTC in Baltimore, nothing will change as a consequence of the transaction. Under a long-term facility operating agreement, MPTC's executives, medical experts from the University of Maryland School of Medicine, University of Maryland Medical Center staff and partnering health systems and practices will continue to operate the center and deliver top-quality care to patients.
"By restructuring in the way have done, we have strengthened our capital structure and ensured that we will be able to deliver our life-saving and life-changing therapy to more and more patients for many years to come," Howe said.
Proton therapy offers patients another tool in the cancer fighting toolbox in addition to surgery, chemotherapy and traditional radiation. Proton therapy differs significantly from traditional radiation treatments because it is delivered to tumor sites with greater precision than other alternatives. It also can be administered in higher doses, and it results in less damage to nearby tissue and organs, allowing patients to have fewer side effects and better quality of life. In fact, cancer patients undergoing proton therapy are typically able to maintain their usual schedules and routines without interruption.
The first U.S. proton therapy treatment center opened to the public in the early 1990s. Since then, the number of sites has grown. There are now 28 centers in operation across the country, and another 12 in development. Approximately 40 facilities offer proton therapy in Africa, Asia, and Europe.
Globally, total revenue for proton therapy reached $1 billion in 2015, according to one study. By 2025, that number is expected to surpass $2.8 billion, and even greater growth is anticipated going forward as more insurers add proton therapy to their areas of coverage. Among MPTC patients, nearly 85 percent are approved for coverage by insurance
In June, MPTC tapped Howe to lead the company. She has over 40 years of experience working at major U.S. banks and private investment companies focusing on healthcare lending and investing.
A native of Baltimore, Howe worked at Equitable Trust and NationsBank as a senior vice president in the first healthcare banking group in Maryland from 1978 to 1995. In 1995, she joined M&T Bank in Baltimore and became administrative vice president in healthcare banking, where she was responsible for managing a portfolio totaling $4 billion.
In 2007, she was a founding principal in Windsor Healthcare Equities, a Baltimore-based private equity investment company, where she was executive vice president and COO. At Windsor, she developed a $500 million portfolio of healthcare assets including senior housing, assisted living, memory care, skilled nursing, medical office buildings and medical technology. Through Windsor, she also was an early participant in the evaluation of the feasibility of proton centers at various locales, including University of Maryland. Most recently, Howe was executive vice president and chief credit and risk officer for CFG Community Bank in Baltimore.
"Leigh is already demonstrating her remarkable abilities and unique qualifications to take the center to the next level," said Jason Pappas, former acting CEO of the center who has been named chairman of the board of Maryland Proton Treatment Holdings. "She not only has a deep understanding of the health care industry, but she also has a profound insight into healthcare finance and the rapidly growing proton therapy market."
Dr. Regine said Howe is "highly regarded throughout the industry and has a clear vision for the future of the center. After treating our 1,000th patient in just two years, we have great momentum. Leigh will no doubt build on this momentum as we continue to deliver excellent treatment and offer greater hope to more patients."
Howe will focus on enhancing the proton center's executive team, enhancing profitability, and creating the nation's leading proton center.
"We have a great story to tell," Howe said. "Our doctors are known globally, and we are treating many of the most complex cancer cases. Every patient we treat is part of our story."
This story was covered in the following publications:
Baltimore Business Journal
Washington Business Journal
Baltimore CityBizList
Daily Record
Baltimore Sun