Maryland Proton Treatment Center Names Laura Miller Chief Administrative Officer
October 30, 2018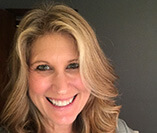 The Maryland Proton Treatment Center (MPTC), the first center in the region to use proton therapy to treat cancer, announced today that it has named Laura Miller as chief administrative officer.
Miller will be responsible for investor relations, regulatory affairs and marketing. With more than 30 years of professional business administration and finance experience, Miller has focused her career on developing business strategies that provide a firm foundation to companies on a growth trajectory. Miller will work closely with MPTC's CEO, Leigh T. Howe, to prepare the Center for continued growth.
"Laura is an exceptional talent with deep knowledge of the health care industry and business operations," said Howe. "She will play a key role in the development and growth of MPTC as we continue to use our state-of-the-art proton therapy to treat patients in the region and from around the world."
Miller's career has been closely tied to the healthcare industry since 1997. As a vice president in M&T Bank's healthcare banking group, she played an integral role breaking into the Pennsylvania healthcare market. Miller's roles at M&T ranged from commercial finance to portfolio management for assets totaling close to $2 billion.
From 2010 to 2015, Miller served as vice president of operations for Windsor Healthcare Equities, a Baltimore-based private equity investment company, developing operational standards and investor reports as the company holdings grew to $500 million. She was also vice president and portfolio manager for Capital Funding Group, headquartered in Baltimore, where she led the implementation of a portfolio management strategy that supported a fast-growing book of assets that grew to more than $700 million in loans to senior living providers.
Most recently, Miller began GPS Life Transition Partners, a firm uniquely capable of guiding older adults and their families to the senior market resources that help them age well.
"Cancer has impacted my life significantly, and I remember searching for options for my own family members. I am excited to join an organization that gives cancer patients in the region a new, advanced option when looking for treatment," Miller said.
Miller earned her bachelor of arts degree from Franklin and Marshall College. She is a resident of York County, Pennsylvania where she is a member of the American Business Women Association and serves on the board of directors for Love INC of Lancaster County.
This was covered in the Maryland Daily Record, Baltimore Business Journal and Baltimore Citybizlist.