Maryland Proton Treatment Center Names Jaime LePage Senior Operations Manager
December 12, 2018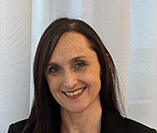 The Maryland Proton Treatment Center (MPTC), the first center in the region to use proton therapy to treat cancer, announced today that it has named Jaime LePage as senior operations manager.
LePage will be responsible for the center's patient experience, working closely with the entire MPTC team – from the concierge and front desk team, to doctors, nurses and research staff – to deliver superior and personalized service to each patient. With more than 16 years of experience as a radiation therapist, LePage has focused her career on assisting patients being treated for cancer. She will coordinate treatment for more than 85 patients per day at the center.
"I've had the privilege of working with Jaime for 16 years. Her passion and experience in treating cancer patients gives her a unique perspective which will allow her to ensure each patient's care experience at our center is second to none," said William F. Regine, MD, FACR, FACRO, Executive Director of MPTC and the Isadore & Fannie Schneider Foxman Chair of the Department of Radiation Oncology at the University of Maryland School of Medicine.
LePage began her career as a staff radiation therapist for the University of Maryland Medical Center in 2002. She quickly took on the role of senior radiation therapist and became assistant chief therapist in 2010. When MPTC opened in 2015, LePage joined as chief therapist where she built a team of more than two dozen radiation therapists and radiation therapy assistants.
"It is amazing to see so many people at MPTC working together towards the same goal: to help people from across the globe to beat cancer!" LePage said. "The compassion everyone has for each other, and the bond we create with our patients, makes me enjoy this work every single day."
LePage earned her bachelor of science degree in radiologic science from the University of North Carolina at Chapel Hill.
This news was covered in The Daily Record, Baltimore Business Journal and City Biz List.
About The Maryland Proton Treatment Center
The Maryland Proton Treatment Center is the first center in the region to fight cancer with proton therapy. More than 1200 people have chosen treatment at MPTC, which has the most experienced proton team in the area. MPTC offers the most advanced form of proton therapy in the world – called pencil beam scanning. This technique is highly effective for a wide variety of solid, localized tumors in adults and children.