Dr. William F. Regine Writes Blog for Varian on Building a Successful Proton Therapy Center
December 14, 2016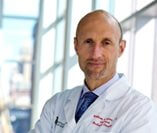 The Varian Medical Systems Spot ON Blog recently featured a post from William F. Regine, MD, FACR, FACRO, the Isadore & Fannie Schneider Foxman Endowed Chair and Professor in Radiation Oncology at the University of Maryland School of Medicine (UM SOM) and Executive Director of the Maryland Proton Treatment Center (MPTC).
The blog post is titled, "Building a Successful Proton Therapy Center Through Early Engagement of Regional Providers and Payers." In the article, Dr. Regine describes how MPTC got started early on building referral networks and working with regional payers to ensure reimbursement for patients.
To read the post, please click here.