Dr. William F. Regine Contributes to DOTmed Article on Developing an Expert Team
March 10, 2017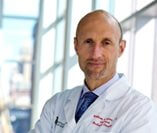 DOTmed HealthCare Business News magazine recently published an article titled "Proton therapy clinical training: Three steps to developing an expert team."
The article includes insight from William F. Regine, MD, FACR, FACRO, the Isadore & Fannie Schneider Foxman Endowed Chair and Professor in Radiation Oncology at the University of Maryland School of Medicine (UM SOM) and Executive Director of the Maryland Proton Treatment Center (MPTC).
According to the article, if a facility is considering offering proton therapy, the medical team should enroll in educational courses.
Dr. Regine states that he brought 8-10 team members to the Paul Scherrer Institute (PSI) in northern Switzerland to receive hands-on instruction by one of the world's most experienced proton teams.
In addition to this educational experience, Dr. Regine also brought on team members who had years of proton therapy experience.
"His team at the Maryland Proton Treatment Center was fortunate in that four of their clinicians alone had a combined 20-plus years of experience in proton therapy, which Regine says helped newer members learn the ropes faster than they would have otherwise," the article states.
To read the full article, please visit dotmed.com.