MPTC believes in a collaborative approach to patient treatment. We work with you from consultation to treatment to follow up and ensure that you are an active participant in patient's care and stay informed of their well-being every step of the way until they are transitioned back into your care. Additionally, we have accreditation programs available that even allow you to treat your patients at the center.
Read more information below or contact our referral team to learn more about proton therapy at MTPC.
For a PDF sheet with instructions on how to refer a patient, please click here.
For a PDF brochure with information for patients about proton therapy, please click here.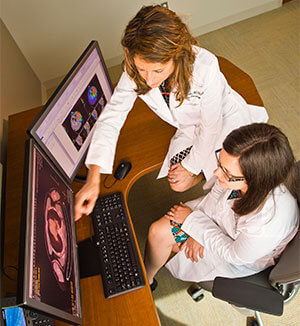 Preferred providers program
The Preferred Provider program offers you and your patient access to MPTC's facilities and treatments – including proton therapy, and much more. When you partner with us as your preferred provider of complex radiation treatment modalities, you and your patients will have access to the following:
Proton therapy. Give your patients access to the first intensity-modulated proton therapy in the region.
International patient program. MPTC wants to make proton therapy available to as many people as possible. Competitive rates and concierge services are provided to make proton therapy more accessible to international patients. To help determine whether a patient is eligible for proton therapy or a clinical trial, MPTC will offer a complimentary, physician-to-physician video conference screening to the patient's referring provider to help alleviate any unnecessary travel.
SIR-Spheres. This is advanced modality is for treating patients with particularly difficult-to-remove cancers of the liver, including liver tumors spread from colorectal cancers. It delivers millions of radioactive particles called SIR-Spheres (microspheres) directly to the tumor and is performed as an outpatient procedure. When compared to external beam radiation therapy, this treatment delivers a higher radiation dose to the tumor, while sparing more of the healthy liver.
Thermal therapies (also known as hyperthermia). Thermal therapy uses heat to treat a broad spectrum of malignancies, and boost the effectiveness of traditional treatments for many types of tumors. Patients can continue receiving radiation at their current radiation center while undergoing thermal therapy. In randomized clinical trials, thermal therapy treatments have demonstrated improvement in local tumor control and survival rates.
GammaPod. was invented at the UM Department of Radiation Oncology and represents a paradigm change in the treatment of early-stage breast cancer. As a first-of-its-kind radiation therapy system in the world, the GammaPod is dedicated to the delivery of stereotactic radiation for the treatment of early stage breast cancer. This noninvasive method uses thousands of precisely focused beams of radiation from 36 rotating sources in combination with a light-vacuum assisted cup that immobilizes the breast. This technique spares surrounding healthy tissue minimizing damage to the breast and surrounding vital organs, such as the heart and lungs.
Ease of records access and successful reconnections. Our department is committed to providing you with immediate access to our clinicians. In an effort to exchange information quickly and provide easy access to records, we have streamlined our patient and referring physician connection through various processes. When you refer a patient, they are typically seen in 2 days or less after receipt of the required records. We will reach out within 24 hours of your patient's initial consultation to provide a summary of the appointment. This ongoing communication also helps ensure a successful reconnection back to you as patients are transitioned back into your care.
Proton therapy
Proton therapy is a powerful tool in the toolbox to fight cancer. It has been proven effective for a variety of tumors that may be impacting your patients.
An approach informed by established clinical guidelines
MPTC, in conjunction with the University of Maryland Department of Radiation Oncology, has created comprehensive clinical guidelines by disease site to help you quickly determine if proton therapy may be a viable option for your patient. Additionally, every patient's case is reviewed by a team of physicians to determine the best radiation modality.
Please request a copy of our Clinical Guidelines from our team by calling or filling out the form below.
About proton therapy
Proton therapy is a well-established and highly effective form of radiation therapy that employs protons instead of conventional X-rays. Since the 1940s, proton therapy has had the potential to improve tumor control and survival through dose escalation and precision while reducing harm to normal tissue. Proton therapy was FDA-approved in 1988 for use in cancer treatment. The pencil beam scan technology at MPTC takes this therapy to a whole new level.
In conventional X-ray radiation treatment, the beam goes through the tumor, exposing normal tissue behind the cancer. With proton therapy, the protons completely release their energy within the tumor, delivering little or no dose to surrounding normal tissue. With less harm to healthy tissue, doctors can increase the radiation dose for optimal results. This not only kills cancer cells with fewer side effects, but also may reduce the risk of secondary cancers that often present later in life, especially in pediatric patients.
The benefits of proton therapy include:
Maximum radiation dose to the tumor
Minimizes damage to surrounding organs and tissue
Painless, non-invasive, out-patient procedure
Limited side-effects during and after treatment
Can be used in conjunction with other treatment modalities
Can be used for retreatment
Cutting-edge technology
MPTC has the Varian ProBeam Proton Therapy System featuring IMPT and pencil-beam scanning.
Treatment process
Once you refer your patient, you can generally anticipate the following process:
Patient Records Request – We will contact your office for records and signed medical forms. To learn about what documents are needed, please view the How to Refer a Patient sheet by clicking here (PDF).
Patient Consultation – Our process is to see patients within two business days of receiving the medical records. During that consultation, our physicians will meet with your patient to review their case and determine if proton therapy is a viable option. You can expect a summary from our team approximately 24 hours following that meeting.  Prior to the consultation, you can help your patient learn more about proton therapy and MPTC by giving them this brochure (PDF).
Approval – If your patient is a proton therapy candidate, we will work on their behalf to obtain insurance coverage and approvals (Proton therapy is covered by Medicare and many private insurance carriers. MPTC has the same billable rate for IMRT as IMPT. Learn more here).
Treatment – Proton therapy treatments are done on an out-patient basis daily for a period of several weeks depending on the tumor site. It is generally very well-tolerated with minor impact to patient health or energy. Many patients may be able to carry on their daily schedules. During treatment, you will receive regular updates to stay abreast of your patient's progress.
Post-Treatment – Following the course of treatment, we will have a series of follow ups with your patient to review their progress. We will formally transfer any relative information we have pertaining to your patient's health from before, during and after their treatment and successfully transition them back into your care.
We encourage your active participation throughout the treatment process and would be happy to have you join your patients during any part of the treatment process.
With proper accreditation you may also treat patients at the center. Learn more about our accreditation process here.
Clinical trials
MPTC is committed to advancing the science and evidence for the effectiveness of proton therapy worldwide. We have a robust clinical trial registry and participation. Every patient at MPTC is asked to consent their treatment data so it becomes part of the Proton Consortium Registry. Additionally, we conduct clinical trials on a disease-site basis. Please click here to learn more about our current clinical trial participation and how you can be involved.
The Maryland Proton Alliance (MPA) brings together the multi-platform global research and education programs of the University of Maryland School Of Medicine (UM SOM) with the clinical services of the MPTC—combining the resources of UM SOM and industry partner Advanced Particle Therapy, LLC, with support from federal, industry, regional and global stakeholders.
The MPA will build on an existing track record of research relationships with major academic centers, industry and the federal government to create new programs exploring the benefits of protons in treating cancer. It is hoped that this unique alliance will increase research funding, as well as create new research positions and educational opportunities for graduate students and other trainees. All of this will of-course, benefit our patients and further the research of cancer treatment.
Private physician tours
MPTC is the first proton therapy center in the Baltimore/Washington area. Our state-of-the-art facility includes cutting-edge technology, patient services and staff. It would be our pleasure to arrange a private tour for you or your staff to see the center and learn more about proton therapy, the referral process and the concierge services extended to all our patients. If you are interested in taking part in a tour, please call Missi Hoch at 410-369-5252.