Sevim Domangue, Brain Patient
When Sevim Domangue of Ocean City, Maryland found out there was a tumor growing under her brain, she reached out to the University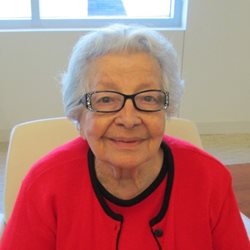 of Maryland Medical Center, where her husband had received excellent care for an injury a few years earlier.
She was put in touch with Robert Malyapa, MD, PhD, a Professor in the Department of Radiation Oncology at the University of Maryland School of Medicine. Based on the specifics of her tumor, he recommended that she receive proton therapy at the Maryland Proton Treatment Center (MPTC).
Sevim, who has a background in engineering and met her husband of nearly 60 years while studying physics and calculus together in college, wanted to know more.
"He really didn't mind talking to me and explaining things on the computer, I was very pleased. I studied it and learned a lot about it and decided to get the treatment," Sevim says.
Sevim stayed in Baltimore for 6 weeks during the treatment. The MPTC concierge team found a room for Sevim at the American Cancer Society's Hope Lodge.
She tolerated the treatment well and was able to enjoy her time in Baltimore by making friends with other patients at MPTC and going out to lunch with them after her daily appointments.
On her last day of treatment, she had a bell ringing ceremony and was happy to see that her friends and clinical team came.
"It was nice to see that they all cared."
She still keeps in touch with some of her MPTC friends, and when others ask her what the experience was like, she says, "I really liked it – I was lucky to find this technology. The doctors, nurses and radiation therapists were wonderful, they were just like a family."
She is now back in Ocean City with her husband and two great-grandchildren. When she's not busy with her family, she enjoys reading, watching television and staying involved with her church. She also acts as an advocate for proton therapy, bringing literature about MPTC to her friends and church groups, and working to set up speaking engagements for Dr. Malyapa in Ocean City.
From the physician, Robert Malyapa, MD, PhD:
"Proton therapy is a great option for treating brain tumors because it helps preserve healthy tissue that enables cognitive function, such as memory. It can also reduce treatment side effects and help maintain quality of life."