Michael Rotberg, Thoracic Patient
Dr. Michael Rotberg, an eye surgeon in North Carolina, was told in March 2018 that something was growing on his heart.
Five years earlier, he underwent chemotherapy and radiation for a thymic carcinoma. Receiving traditional radiation again was not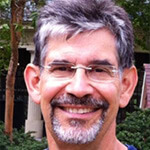 recommended, as the body can only tolerate a certain amount of radiation over a life time. His physician, Arun Rajan, MD, of the National Cancer Institute, recommended proton therapy since proton therapy allows normal tissues previously irradiated to be spared.
In May 2018, Michael began treatment at the Maryland Proton Treatment Center (MPTC).
He tolerated proton therapy well and was able to enjoy hiking, baseball games, museums and concerts with his wife while getting treatment in Baltimore. They also participated in the integrative wellness lecture series at the center, and he took part in yoga and meditation sessions.
"The sessions were wonderful," Michael says. "The mind and attitude play an important part in setting a person up for remaining strong and healing."
"Each patient differs greatly – symptoms, health goals, lifestyle choices, and education; so, meeting the individual where they are at is extremely important," says Griffin McMath, ND, Program Administrator for Integrative Wellness at MPTC. "As both a doctor and an actively engaged patient, Michael Rotberg's personalized, integrative treatment plan complemented his existing knowledge base and provided support for his path to healing."
In June, Michael completed treatment and returned home. That same month, he published a book on becoming a better doctor, patient and person, titled "Practice." He is currently looking forward to visiting his daughter and her family in London.